IMPORTANT INFORMATION ABOUT (COVID-19
MANILA: About 1,500 Filipinos participated in Chinese biotech company Sinopharm's COVID-19 vaccine Phase 3 trial in the UAE, Chinese Ambassador to the Philippines Huang Xilian said.
Huang said the 1,500 Filipinos are part of the 30,000 volunteers who joined the trials launched in the UAE, the Philippine Daily Inquirer reported on Thursday, quoting an embassy statement.
"Around 1,500 Filipinos among more than 30,000 volunteers have participated in the Phase-III clinical trial of Sinopharm's COVID-19 vaccine candidate in the UAE since June 23," a statement from the Embassy said Wednesday, quoting Huang.
The UAE trial is the world's first Phase-III clinical trial of a COVID-19 inactivated vaccine. Apart from UAE, Huang said trials of the same vaccine are also ongoing in Bahrain, Argentina, Peru, and Morocco and more, involving some 50,000 volunteers.
WHO says $700 million raised so far for COVID-19 vaccines initiative for poor
HARARE: International donors have raised $700 million – less than half the target – to purchase future coronavirus vaccines for poor countries in a global initiative to ensure eventual vaccines do not go only to rich countries, a World Health Organization official said on Thursday.
The COVAX Advanced Market Commitment has an initial target of $2 billion to buy the vaccines.
"Up to today, what has been mobilised so far is $700 million … So there is a great deal of work to be done to diversify the possible sources of funding," Matshidiso Moeti, Africa regional director for the WHO, told an online press briefing.
COVAX is co-led by the GAVI Vaccine Alliance, the WHO and the CEPI Coalition for Epidemic Preparedness Innovations. Its aim is to deliver 2 billion doses of effective, approved COVID-19 vaccines by the end of 2021.
At least eight African countries, including South Africa, Gabon, Namibia and Equatorial Guinea had agreed to self-finance access to the vaccine, Moeti said.
The Africa Centres for Disease Control and Prevention said last month the continent had started to slowly "bend the curve" of COVID-19 infections as measures like mask-wearing and social distancing slow the spread of the pandemic.
Vaccine still possible this year, despite trial pause: AstraZeneca
LONDON: Drugs giant AstraZeneca on Thursday said a Covid-19 vaccine could still be available by as early as the end of this year, despite a randomised clinical trial in the UK being paused.
"We could still have a vaccine by the end of this year, early next year," the company's chief executive Pascal Soriot said, adding it depended on how fast regulators moved.
Brazil could launch Chinese vaccine this 2020: governor
SAO PAULO: Clinical trials in Brazil of a Chinese-made vaccine against COVID-19 have shown "extremely positive" results, and a widespread vaccination campaign could begin as early as December, the governor of Sao Paulo state said.
Sao Paulo, the epicenter of the coronavirus pandemic in hard-hit Brazil, is one of six states helping to test the so-called CoronaVac vaccine developed by Chinese pharmaceutical firm Sinovac Biotech.
The vaccine produced an immune response in 98 percent of recipients over 60 years old, with no adverse side-effects reported so far, said Governor Joao Doria.
"The results have been extremely positive," he told a news conference.
"We will soon be able to immunize Brazilians in Sao Paulo and across the country with the CoronaVac vaccine…The projected delivery date is in December this year."
Sinovac has partnered with a Brazilian public health research center, the Butantan Institute, to conduct Phase 3 clinical trials of the vaccine — the last step before regulatory approval.
The deal gives the institute the right to produce 120 million doses of the vaccine, according to officials. CoronaVac has gotten caught up in a political battle in Brazil, however.
The Food and Drug Administration (FDA) will no longer block the import of KN95 masks, due to a shortage in personal protective equipment, or PPE, in the United States, an agency official first told Buzzfeed News.
The masks have been described as the Chinese equivalent of an N95 mask which U.S. health care workers use to protect themselves from airborne bacteria and viruses. Though they are allowing imports of the KN95 mask, the product is not FDA-approved, meaning those who use it do so without legal protections.
The Centers for Disease Control and Prevention (CDC) has included the KN95 mask as an alternative to other certified masks that should be used on an emergency basis.
The FDA has not authorized models of KN95 masks made in China under an Emergency Use Authorization (EUA) previously due to concerns of fraudulent products.
"Because of this, the FDA generally would not object to the importation and use of KN95 masks without an EUA," an FDA official told The Hill. "Although not required, if a KN95 mask does not have an EUA, importers may want to take appropriate steps to verify the authenticity of these products. The FDA is ready and available to engage with importers to minimize disruptions during the importing process."
The agency announced Thursday that it was loosening regulations on face masks but did not specifically name the KN95 mask.
"Most recently, the FDA issued an EUA to help increase the supply of filtering facepiece respirators by authorizing the use of certain imported disposable respirators that are not National Institute for Occupational Safety and Health (NIOSH)-approved for use by health care professionals," the FDA said in a statement.
"We are continuing to work on strategies to increase the availability of these devices," the statement continues.
The agency also said it is working with manufacturers to produce masks as the demand has increased for both health care workers and civilians.
"We are providing maximum regulatory flexibility where we can," the agency added.
The move to allow the import of KN95 comes as GOP lawmakers have shown concern over the U.S.'s dependence on China for medical supplies and various pharmaceuticals.
Doctors are reporting they now understand the behavior of the COVID 19 virus due to autopsies that they have carried out. This virus is characterized by obstructing respiratory pathways with thick mucus that solidifies and blocks the airways and lungs. So they have discovered that in order to apply a medicine you have to open and unblock these airways so that the treatment can be used to take effect however all of this takes a number of days. Their recommendations for what you can do to safeguard yourself are …
1) Drink lots of hot liquids – coffees, soups, teas, warm water. In addition take a sip of warm water every 20 minutes bc this keeps your mouth moist and washes any of the virus that's entered your mouth into your stomach where your gastric juices will neutralize it before it can get to the lungs.
2) Gargle with an antiseptic and warm water like vinegar or salt or lemon every day if possible
3) The virus attaches itself to hair and clothes. And detergent or soap kills it but you must take bath or shower when you get in from the street. Avoid sitting down in your home and go straight to the shower. If you cannot wash your clothes daily, hang them in sunlight which also helps to neutralize the virus
4) Wash metallic surfaces very carefully bc the virus can stay viable on these for up to 9 days. Take note and be vigilant about touching hand rails, door knobs, etc. and keep these clean in home home
5) Don't smoke
6) Wash your hands every 20 minutes with any soap that foams and do this for 20 seconds
7) Eat fruits and vegetables. Try to elevate your zinc levelS
8)Animals do not spread the virus to people. Its a person to person transmission.
9)Try to avoid getting the common flu as this already weakens your system and try to avoid eating and drinking any cold things.
10) If you feel any discomfort in your throat or a sore throat coming on, attack it immediately using the above methods. The virus enters the system through the throat but will sit in the throat for 3-4 days before it passes into your lungs.
MARCH 28/2020
The U.S. Centers for Disease Control and Prevention issued a domestic travel advisory for New York, New Jersey, and Connecticut on Saturday night, the FDA approved a fast new coronavirus test and a naval hospital ship left Norfolk, Virginia, for New York City.
President Donald Trump said earlier Saturday he was considering imposing a two-week quarantine on New York and parts of New Jersey and Connecticut to deal with the rapid spread of COVID-19. He later tweeted "a quarantine will not be necessary," saying the CDC's advisory would follow.
The U.S. counted more than 124,000 cases of coronavirus Saturday, with at least 2,100 deaths, according to the Johns Hopkins University data dashboard. More confirmations are expected as the U.S. ramps up testing.
About 660,000 people are known to have been infected with COVID-19 globally, and more than 30,000 have died.
Our live blog is being updated throughout the day. Refresh for the latest

WHO to accelerate research and innovation for new coronavirus
6 February 2020 credits to WHO https://www.who.int/emergencies/diseases/novel-coronavirus-2019
WHO is convening a global research and innovation forum to mobilize international action in response to the new coronavirus (2019-nCoV).
"Harnessing the power of science is critical for bringing this outbreak under control," said WHO Director-General Dr Tedros Adhanom Ghebreyesus. "There are questions we need answers to, and tools we need developed as quickly as possible. WHO is playing an important coordinating role by bringing the scientific community together to identify research priorities and accelerate progress."
The forum, to be held 11-12 February in Geneva, is organized in collaboration with the Global Research Collaboration for Infectious Disease Preparedness.
The forum will bring together key players including leading scientists as well as public health agencies, ministries of health and research funders pursuing 2019-nCoV critical animal health and public health research and the development of vaccines, therapeutics and diagnostics, among other innovations.
Participants will discuss several areas of research, including identifying the source of the virus as well as sharing of biological samples and genetic sequences.
Experts will build on existing SARS and MERS coronavirus research and identify knowledge gaps and research priorities in order to accelerate scientific information and medical products most needed to minimize the impact of the 2019-nCoV outbreak.
The meeting is expected to produce a global research agenda for the new coronavirus, setting priorities and frameworks that can guide which projects are undertaken first. "Understanding the disease, its reservoirs, transmission and clinical severity and then developing effective counter-measures is critical for the control of the outbreak, to reduce deaths and minimize the economic impact," said Dr. Soumya Swaminathan, WHO Chief Scientist.
This will also fast-track the development and evaluation of effective diagnostic tests, vaccines and medicines, while establishing mechanisms for affordable access to vulnerable populations and facilitating community engagement.
"The WHO R&D Blueprint is a global strategy and preparedness platform that drives coordinated development of drugs and vaccines before epidemics, and allows the rapid activation of R&D activities during epidemics. It speeds up the availability of the diagnostics, vaccines and treatments and technologies that ultimately save lives," added Dr Michael Ryan, Executive Director, WHO Health Emergencies Programme.
Setting clear global research priorities for the novel coronavirus should lead to more efficient investments, high-quality research and synergies among global researchers.
Online training as a weapon to fight the new coronavirus
More than 25 000 people across the globe have accessed real-time knowledge from WHO experts on how to detect, prevent, respond to and control the new coronavirus in the 10 days since the launch of an open online training.The learning team of the WHO Health Emergencies Programme worked with technical experts to quickly develop and publish the online course on 26 January – 4 days before the 2019-nCoV outbreak was declared a public health emergency of international concern.Approximately 3000 new users have registered for the training every day since its launch, demonstrating the high level of interest in the virus among health professionals and the general public. In addition, more than 200 000 people have viewed the introductory video to the course on YouTube.The high engagement levels emerged as the international community launched a US$675 million preparedness and response plan to fight further spread of the new coronavirus and protect states with weaker health systems.The free learning resource is available to anyone interested in novel coronavirus on WHO's open learning platform for emergencies, OpenWHO.org. The platform was established 3 years ago with emergencies such as nCoV in mind, in which WHO would need to reach millions of people across the globe with real-time, accessible learning materials.The online training – entitled "Emerging respiratory viruses, including nCoV: methods for detection, prevention, response and control" – is currently being produced in all official UN languages and Portuguese."Our job is to work with technical health experts to package knowledge using adult learning principles, quickly so that it is most useful to health workers and our staff," said Heini Utunen, who manages OpenWHO for the WHO Health Emergencies Programme (WHE). "Our online platform – OpenWHO – is already accessed by users from every country on earth, providing more than 60 courses in 21 languages. Delivering trainings in the local language of responders is really important, especially in an emergency".

WHE has been investing in learning and training to strengthen preparedness and real-time response to health emergencies. The programme developed its first-ever learning strategy in 2018 and has a small dedicated Learning and Capacity Development Unit that allows WHE to develop trainings quickly and get know-how to those who most need it at the front line.

Medical advisers are now warning the public to wear a kn95 mask or similar when going outside

For the latest information on the new coronavirus, visit the 2019-nCoV page.
Coronavirus: Expert panel to assess face mask use by public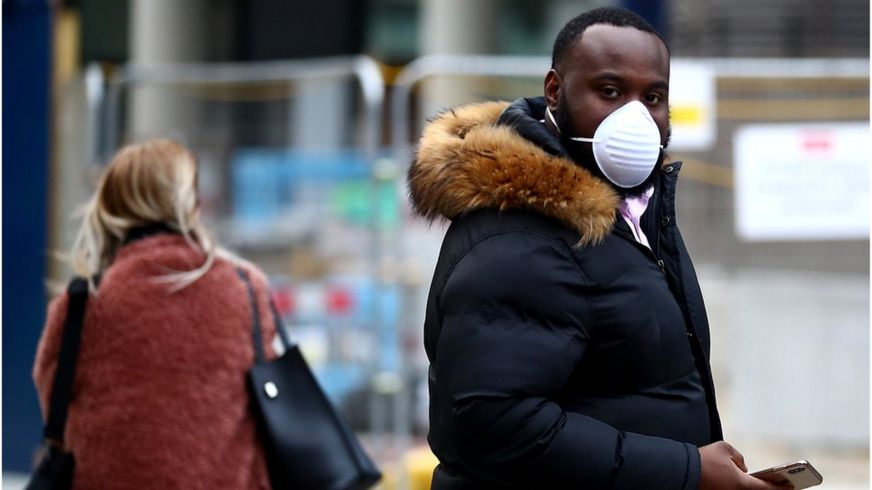 Should more of us wear face masks to help slow the spread of coronavirus?
This question is to be assessed by a panel of advisers to the World Health Organization (WHO).
The group will weigh up research on whether the virus can be projected further than previously thought; a study in the US suggests coughs can reach 6m and sneezes up to 8m.
The panel's chair, Prof David Heymann, told BBC News that the new research may lead to a shift in advice about masks.
The former director at the WHO explained: "The WHO is opening up its discussion again looking at the new evidence to see whether or not there should be a change in the way it's recommending masks should be used."
What is the current advice?
The WHO recommends keeping a distance of at least 1m from anyone coughing or sneezing to avoid the risk of infection.
It says people who are sick and show symptoms should wear masks.
But it advises that healthy people only need to wear them if they are caring for others suspected of being infected or if they themselves are coughing or sneezing.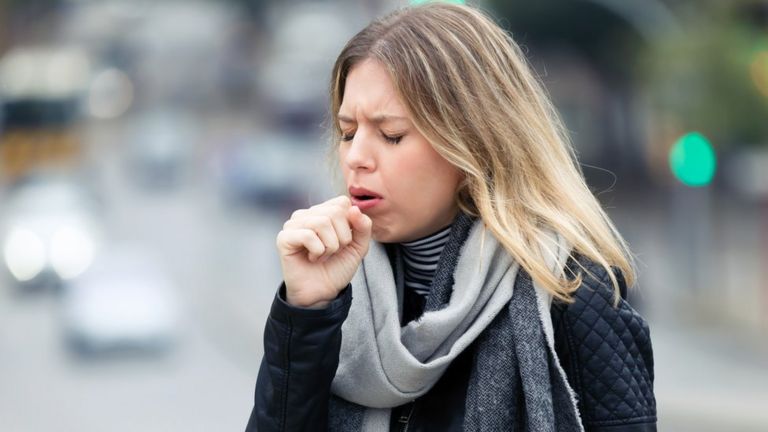 It emphasises that masks are only effective if combined with frequent hand-washing and used and disposed of properly.
The UK, along with other countries including the US, advises that social distancing should mean staying at least 2m apart.
This advice is based on evidence showing that viruses can only be transmitted while carried within drops of liquid.
The understanding is that most of those drops will either evaporate or fall to the ground near to the person who released them.
So what does the new research say?
Researchers at the Massachusetts Institute of Technology (MIT) in Cambridge, US, used high-speed cameras and other sensors to assess precisely what happens after a cough or sneeze.
They found that an exhalation generates a small fast-moving cloud of gas that can contain droplets of liquid of varying sizes – and that the smallest of these can be carried in the cloud over long distances.
The study – conducted in laboratory conditions – found that coughs can project liquid up to 6m away and that sneezes, which involve much higher speeds, can reach up to 8m away.


What are the implications?
The scientist who led the study, Prof Lydia Bourouiba of MIT, told me that she is concerned about the current concept of "safe distances".
"What we exhale, cough or sneeze is a gas cloud that has high momentum that can go far, traps the drops of all sizes in it and carries them through the room," she said.
"So having this false idea of safety at one to two metres, that somehow drops will just fall to the ground at that distance is not based on what we have quantified, measured and visualised directly."
Does this change the advice about masks?
Prof Bourouiba's view is that in certain situations, especially indoors in poorly ventilated rooms, wearing masks would reduce the risks.
For example, when facing someone who's infected, masks could help divert the flow of their breath and its load of virus away from your mouth.
"Flimsy masks are not going to protect from inhaling the smallest particulates in the air because they do not provide filtration," Prof Bourouiba said.
"But they would potentially divert the cloud that is being emitted with high momentum to the side instead of forward."
What do the WHO advisers think?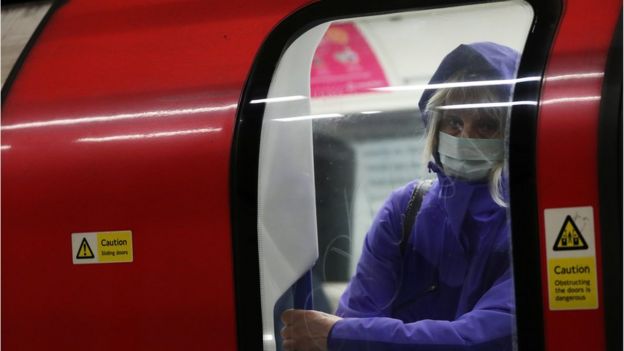 According to Prof Heymann, the new research from MIT and other institutions will be evaluated because it suggests that droplets from coughs and sneezes could be projected further than originally thought.
He said that if the evidence is supported, then "it might be that wearing a mask is equally as effective or more effective than distancing."
But he adds a warning that masks need to be worn properly, with a seal over the nose. If they become moist, Prof Heymann explained, then particles can pass through. People must remove them carefully to avoid their hands becoming contaminated.
He adds that masks need to be worn consistently.
"It's not on to wear a mask and then decide to take it off to smoke a cigarette or eat a meal – it must be worn full time," he said.
The panel, known as the Strategic and Technical Advisory Group for Infectious Hazards, is due to hold its next virtual meeting in the next few days.
A spokesperson for Public Health England said there was little evidence of widespread benefit from wearing masks outside clinical settings.
"Facemasks must be worn correctly, changed frequently, removed properly, disposed of safely and used in combination with good universal hygiene behaviour in order for them to be effective.
"Research also shows that compliance with these recommended behaviours reduces over time when wearing facemasks for prolonged periods."
Aren't countries changing their advice on masks anyway?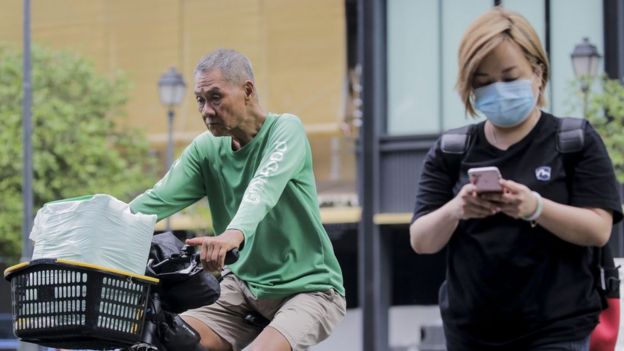 Long popular in many countries in Asia, masks are now being assessed for public use by the US Centers for Disease Control (CDC).
In Austria, the police now wear them and anyone dealing with the police will have to wear one too. Supermarkets there will insist that customers do too.
A once-rare sight in Europe is becoming more common, and new advice from the WHO would accelerate that change.